Are you looking for the best way to play your favorite PPSSPP Games with PlayStation 4 controller on an Android mobile? Here you can get the best tips and tricks on how to connect a PS4 controller to PPSSPP Android Emulator.
PPSSPP Emulator remains the best to play PlayStation portable games on Android! And the good news is that the option to play the game is not just on the touch screen, you can also play with your favorite PlayStation gamepad controller and the best of it is the PS4 wireless controller.
Connecting your PS4 Controller to PPSSPP can be a little tricky at first, but with the help of this guide, you'll be playing your favorite PSP games in no time!
Requirements
As usual, before we proceed we provide you the list of the recommended Apps and tools you need before start playing your games. The requirements are the list below:
Updated PPSSPP Gold Emulator.
Android Mobile with at least 1GB
Android Mobile version 7.0+
PS4 Wireless controller for Android
Bluetooth connection
Best PS4 Wireless Controller
DATA FROG Wireless Controller For PS4 Wireless Joystick For Android, PC Game Controller Bluetooth-compatible Gamepad For PS4 Slim/Pro.
PS4 Gamepad Specification
Brand Name:
DATA FROG
Origin:
Mainland China
Bluetooth:
YES
Package:
YES
Model Number:
WL09190824
Compatible:
SONY PS4
Android
PC Windows 7, 8, 10, 11
Steam
Desktop Computer
]
Controller Features
Gamepad with Speaker
Support 3.5mm Headphone audio jack
Support 6-axis motion sensor
Touchpad Light Bar
PS4 Wireless Price
| | |
| --- | --- |
| Original Price: | USD 21.98 |
| Now Price: | USD 10.33 |
| Customer Ratings: | 4.7/5.0 |
How To Connect PS4 Controller To PPSSPP Emulator
1. Open your Android Mobile Bluetooth
2. Open your PPSSPP Android Emulator.
3. Make sure you have set the best PPSSPP Settings.
4. Switch your PS4 controller Bluetooth by pressing two buttons as shown in the image below: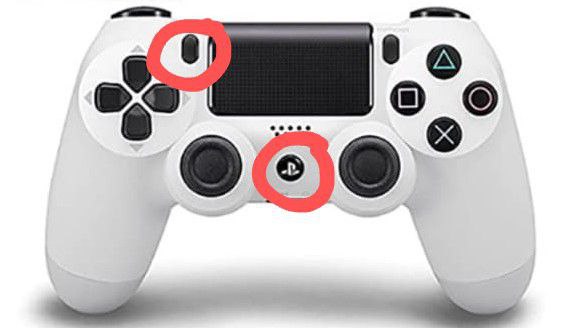 5. You'll see the gamepad light bar start blinking.
6. Then, go to your mobile Bluetooth menu you'll find the gamepad and connect.
7. Open your PPSSPP Emulator, run your game and start playing with your PlayStation 4 gamepad.
Conclusion
Facing any problems with how to connect the PS4 controller to PPSSPP Emulator on Android? Kindly make comment below or contact us on our Facebook page.
You can also join us on the Telegram channel and Twitter handle for more latest PPSSPP Games tips and tricks Thank you.