Download the new version of Pro Evolution Soccer eFootball PES 2021 ISO file for PlayStation portable and PPSSPP emulator android application.
efootball PES 2021 ISO game file English version was one of the most downloaded PSP games on our portal this year. It's the first game designed by pesgames Inc.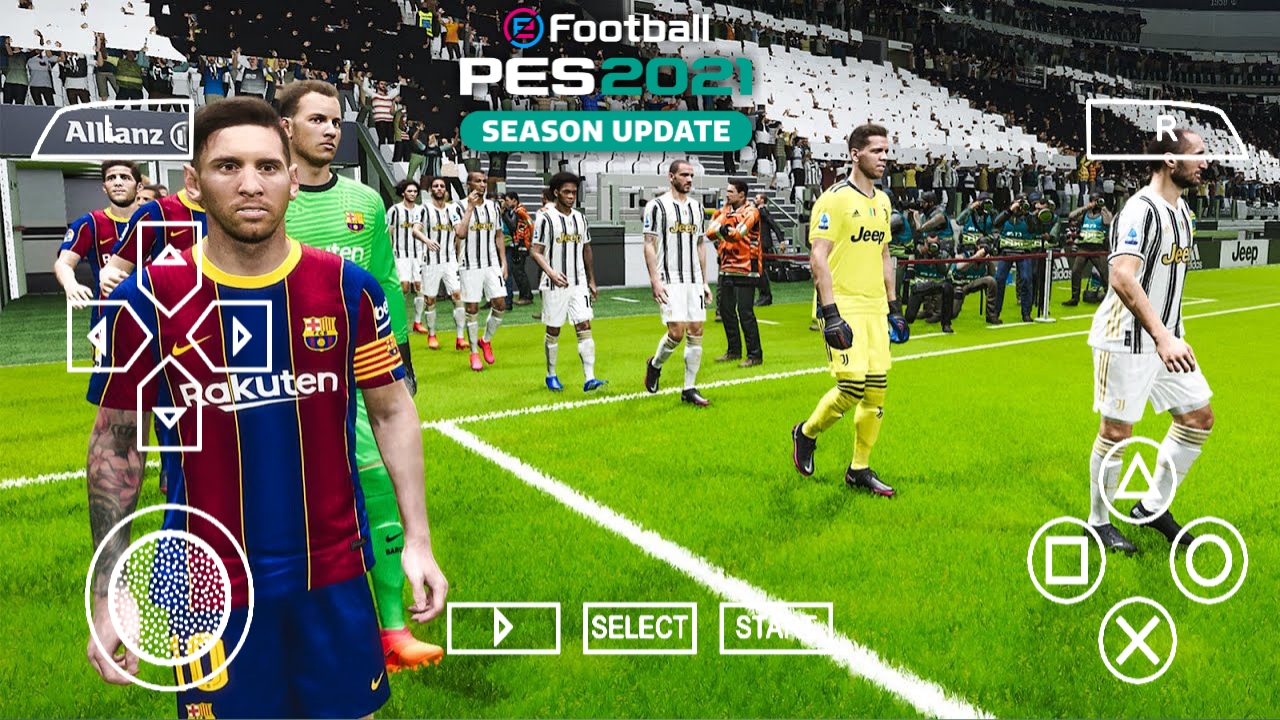 Pro Evolution Soccer 2021 ISO (officially abbreviated as efootball 2021 ISO) The game is also known in Asian countries as eFootball Winning eleven 2021. The game was originally developed and published by Konami for PlayStation portable and PPSSPP emulator.
eFootball PES 2021 ISO Game Mode
Match: Play an exhibition match with CPU or with your friends by using Ad-hoc mode (multiplayer).
Legend: Play casual matches and competitions with friends in Ad-hoc mode.
UCL: Take part in the authentic experience of the Uefa Champions League.
UEL: play the latest version of the Uefa Europa League.
Master League: This mode lets you create your ideal club using player development and transfers.
Become a legend: In this mode, you can enjoy the life of a soccer player from his professional debut to his retirement.
World player: Jump into the shoes of a real-life soccer player and put yourself through the rigors of a full season.
League: Play a season with your favorite teams. Serie A, Bundesliga, Laliga, Premier League, Ligue 1, and International league.
Cup: Play a variety of tournaments and the KONAMI Cup, FIFA World Cup, UEFA Euro, AFCON, AFC Cup, and Copa America.
Training: Practice shooting, free kicks, a set play, dribbling, and professional skills.
What's New Inside eFootball PES 2021 ISO
New Graphics: Pro Evolution Soccer 2021 new background pictures and icons all are updated such as game radar, scoreboard, menu icons, BG images, etc.
Camera Type: PlayStation 4 Camera (Wide, TV mode, Normal close, Normal medium, and Normal long) you can also change the camera panning angle as well as tailing camera mode.
Stadiums: Top European and American biggest stadiums such as Estadio Santiago Bernabeu, Old Trafford, and Maracana of Brazil are all updated with their new styles and buildings.
Updated Player Transfer: We'll do our best to make sure that we provide you with the updated transfer save data of the game.
Some Of The Best Transfers of this game are Luis Suarez at Atletico Madrid, Pedri and Pjanic at Barcelona, Kai Harvertz and Ziyech at Chelsea, Van de Beek at Manchester united, Arthur Melo at Juventus, Rakitic at Sevilla, Diogo Jota at Liverpool, etc.
Real Player Ability: World-class players like Lionel Messi, Cristiano Ronaldo, and Erling Haaland have real-life characters.
Uniform (Jersey): All clubs of Pro Evolution Soccer 2021 are the latest updated with the 20/21 Season.
Top 5 Teams to play with:
Juventus: (Rating 94) Top players 5 are Cristiano Ronaldo, Paulo Dybala, Morata, Cuadrado and Danilo.
Real Madrid: (Rating 93) Top players 5 are Hazard, Vini Jr, Sergio Ramos, Luka Modric, and Toni Kroos.
Barcelona: (Rating 93) Top players 5 are Lionel Messi, Ansu Fati, De Jong, Pique and Griezmann.
Man City: (Rating 92) Top 5 players are De Bruyne, B. Silva, Aguero, Sterling, and Ederson.
PSG: (Rating 92) Top 5 players are Neymar, Mbappe, Di Maria, Verratti, and Keylor Navas.
PES 2021 PPSSPP Game Requirements
| | |
| --- | --- |
| Emulator: | PPSSPP Gold Android |
| Operating System: | Android 4.4+ |
| Memory: | 1GB RAM and 500MB phone memory free space |
| Game size: | 600MB |
eFootball PES 2021 ISO Game Details:
| | |
| --- | --- |
| Developers: | Konami |
| Designer: | Pesgames Inc. |
| Platforms: | Playstation Portable, PPSSPP or PPSSPP Gold |
| Updated: | 1-October-2020 |
| Genre: | Pro Evolution Soccer |
| Mode: | Single-player, multiplayer. |
eFootball PES 2021 ISO Download link:
How to set and play the game:
After downloading the files required at the above links, the next step is to extract those files by using the Zarchiver pro version.
Extract the game file to phone memory -> PSP.
Extract the savedata file to phone memory -> PSP.
That's all, now open your PPSSPP gold new version and start playing.
Note: If you find out that the game shows a black screen, the only thing you have to do is go to PPSSPP Settings and find Language change it from English to Espanōl (American Latino).
Here are some major Q/A about eFootball 2021 ISO:
Q. After downloading, extracting, and installing the game shows blank when opening it, how can I fix it?
A. Goto your PPSSPP emulator settings, locate the system and click on language and change it from English to Castellano (Espana) or Espanol (America Latina).
Q. Can I play eFootball PES 2021 ISO on my PC?
A. Yes, you can play it by using its PlayStation portable.
Summary: finally we hope you get all information about our favorite efootball Pro Evolution Soccer 2021 PSP and you will surely enjoy it. For more info. For and latest update join us on Facebook and Telegram.